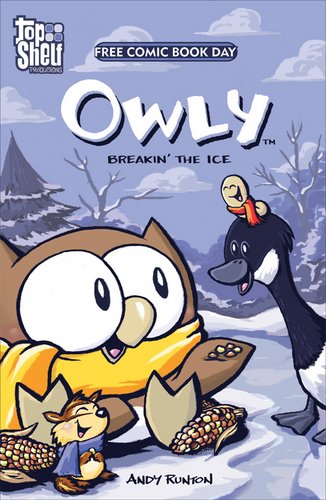 May 6th is Free Comic Book day!
This event is exactly what it sounds like - free comics! This is a great opportunity for anyone who wonders "what all the fuss is about comics" or for anyone who has children -
'cuz kids love comics!
You can find a store in your area that is participating in this event by entering your zip code at the
Free Comic Book Day 2006 website
.
There are a few rules - you can't just walk in and take any old book you want; stores have selected books that are available as part of this promotion. Some stores have a limit on how many books you can have; however, I personally endorse a "Speed Limit: Two" policy.
Of course, I'm lucky enough to live in an area with a whole slew of shops, so I can take Schecky to more than one if there are multiple books that we just have to have.
I'm thrilled, because one of the participating authors is
Andy Runton
, author of
Owly
.
And you know
just how much I love Owly
....
---
*
Sorry to have been so quiet as of late, I'll be back later this weekend with a few miscellaneous nibbly bits to share - but I wanted to spread the word about FCBD so that you can join in the fun!